A pre nursery school plays a vital role in laying a strong foundation and structuring a child's educational journey. It serves as an imperative stepping stone for their development by fulfilling their requirements for future academic success. This blog showcases 13 reasons why choosing a pre primary school is one of the most important decisions you can make for your child. You can provide your child with a better start towards a brighter future in the modern competitive world by understanding the benefits of early childhood education.
1. How a Preschool Helps Children in Developing Social Skills
A good preschool offers children the opportunity to interact and socialize with their peers through learning and playful activities, which in turn aid them in expressing themselves and overcoming any barriers through communication. Activities like group play, collaborative projects and storytelling, children are able to learn how to communicate effectively, share, take turns and cooperate among themselves which encourages teamwork. These experiences allow them to develop empathy and emotional intelligence. 
2. How a Preschool Improves Cognitive Development and Makes Your Child Ready for School
The stimulating environment provided by a pre nursery school promotes cognitive development and prepares them for formal schooling. Extracurricular activities and educational materials used at a preschool expose your child to literacy, numeracy, and problem-solving skills. This allows children to learn to follow instructions, increase their attention span, and acquire the basic foundation knowledge that prepares them for formal schooling.
3. How a Pre Primary School Help Children Learn Language Efficiently
The role of a preschool in the development of language and communication skills in children is a pivotal one. Qualified educators help children's language acquisition, expand their vocabulary, and enhance verbal expression. Through interactive activities like storytelling, conversations, and group discussions, teachers are able to boost children's confidence and nurture effective communication skills.
4. How Pre Nursery Schools Improve Emotional and Self-Regulation Skills
Emotional development is a critical aspect of a child's growth, and preschool provides a nurturing environment for fostering emotional intelligence. With extensive guidance and support from skilled teachers, children learn to recognize and manage their emotions effectively. This allows them to develop self-regulation skills, resilience, and the ability to adapt to new situations, which are invaluable life skills that will benefit them throughout their lives.
5. How Preschools Enhance Fine and Gross Motor Skills
A good pre primary school helps children develop fine and gross motor skills through various activities like arts and craft, and outdoor play. This encourages children to engage in tasks that strengthen their hand-eye coordination, dexterity, balance, and overall physical abilities. These activities lay a solid foundation for future sports participation, artistic pursuits, and overall physical well-being.
6. How a Preschool Exposes Children to a Structured Learning Environment
Children are first exposed to an organized learning environment in a preschool, which helps them adjust to formal schools. They acquire the skills of everyday compliance, rule observance, and discipline awareness. Children that have this experience are better able to manage their time, feel responsible, and adjust to a classroom environment.
7. How a Preschool Makes Children Independent and Confident
Children that attend preschool are encouraged to be independent and confident. Children receive a sense of success and form a good self-image as they take on age-appropriate duties and responsibilities, such as organizing their belongings, adhering to rules, and finishing little tasks. This promotes independence and self-belief, two traits that are essential for future success.
8. How Pre Nursery School Exposes Kids to Diversity and Cultural Awareness
Children from many backgrounds come together in pre nursery school, creating a melting pot of diversity. Tolerance, respect, and cultural understanding are nurtured from an early age by this exposure to many cultures, traditions, and viewpoints. In order to be prepared for a multicultural world, children learn to value diversity, embrace difference, and cultivate a global attitude.
9. How a Preschool Nurtures Creativity and Imagination
Children are allowed to unleash their creativity and imagination through art, music, pretend play, and storytelling. These activities encourage their love for learning and their natural curiosity.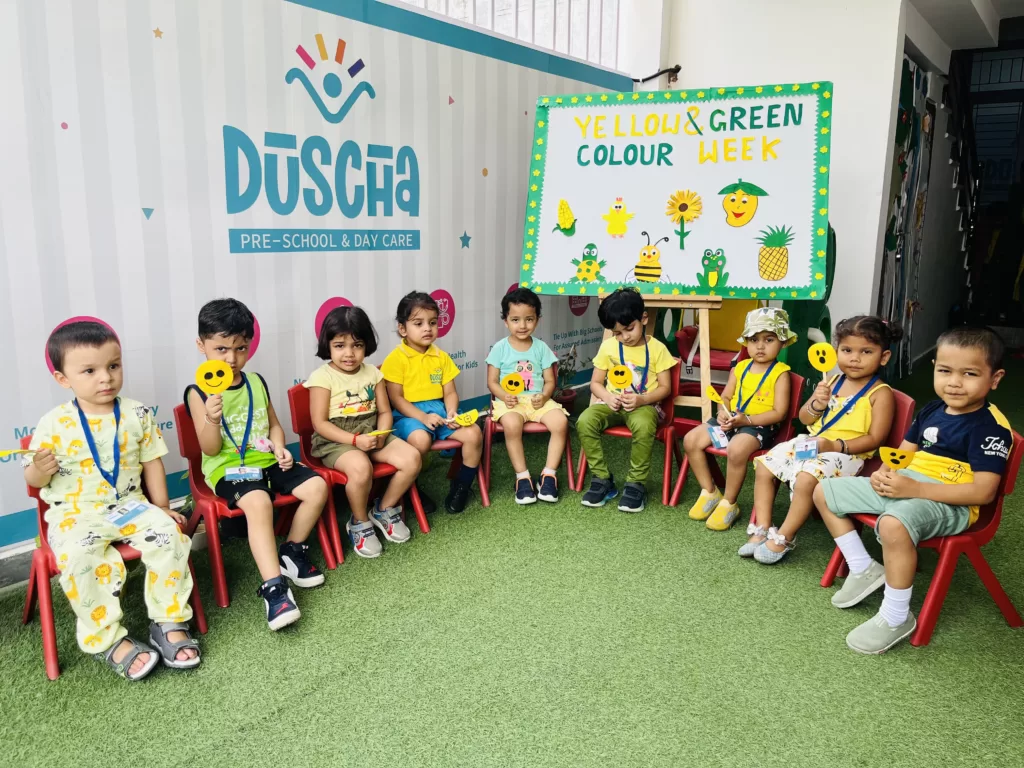 10. How Preschool Help Children Love Learning
Preschool fosters a good link with learning and paves the way for a child's love of learning that lasts a lifetime. Children who get a play-based curriculum and stimulating activities have a positive attitude towards learning and see it as enjoyable. Children are motivated to learn throughout their educational careers by this passion of learning.
11. How a Pre Primary School Encourages Parental Involvement and Support
In pre primary schools, parents and teachers work closely together to actively encourage parental involvement. Parents can stay informed about their child's progress and actively participate in their educational journey thanks to regular communication, parent-teacher conferences, and participation in school events. This partnership guarantees that parents play a significant role in their child's preschool experience.
12. How a Preschool Prepares for Future Academic Success
Preschool serves as a solid foundation for future academic success. Children who attend preschool often exhibit better academic performance, higher reading readiness, and enhanced problem-solving skills compared to those who do not. The skills and knowledge acquired in preschool create a strong base for future learning, paving the way for a smooth transition to elementary school and beyond.
13. How a Preschool Offers Long-Term Benefits and Life Skills
The benefits of preschool extend far beyond the early years. The skills and values taught to children in this crucial point of their lives leaves a lasting impact on their character development. Preschool education lays the groundwork for critical thinking, creativity, social and emotional intelligence, effective communication, and lifelong learning. These essential life skills empower children to navigate challenges, embrace opportunities, and achieve their full potential in all aspects of life.
Why Choose Duscha for your Child?
Choosing a preschool for your child is one of the most important decisions you can make. Hence why, Duscha Preschool and Daycare provides exceptional education and high-end classrooms, making it the top pre primary school in Ashiyana Lucknow. 
Duscha's professional and well-educated team of teachers help your children through an extensive curriculum that nurtures necessary skills in your children. Duscha offers high-quality education for children at reasonable prices making it one of the most affordable preschools in Ashiyana. Duscha takes pride in the facility it offers for the development of children's minds including dedicated play area, computer labs and modern classrooms. 
Duscha also takes extra precautions and follows strict protocols to ensure your child's safety. It offers hygienic and clean classrooms and play areas. The school also offers medical care should your child get injured during play or feel unwell. Make the wise choice to invest in your child's future by selecting the best preschool in Ashiyana that prioritizes their holistic development.
Here are just a few of the programs we offer at Duscha PreSchool & Day Care:
No Tuition Fee Hike for the Next Academic Session
Modern Preschool Technology-Oriented Infrastructure
Air-Conditioned Smart Classes
Safe Pickup and Drop Facility
Montessori Way of Learning
Dedicated Computer Labs and Library
Quarterly Health Check-up Camp for Duscha Students
Experienced Teachers
Affordable Fees
At Duscha PreSchool & Day Care, we understand that every child is unique, and we strive to create a learning environment that is tailored to their individual needs. Our experienced staff works closely with parents to ensure that each child receives the support and attention they need to thrive.
So if you're looking for the best kids school in Ashiyana, Lucknow, look no further than Duscha PreSchool & Day Care. With our commitment to excellence, individualized attention, and top-notch educational programs, we are the best choice for parents who want to give their children a strong foundation in education.
But don't just take our word for it – come see for yourself! Schedule a tour of our air-conditioned play school in Lucknow today, and discover why Duscha PreSchool & Day Care is the best school in Ashiyana, Lucknow.
Frequently Asked Questions